Category Archives:
Sea Kayak Courses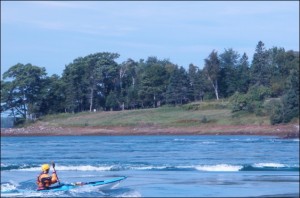 Tom Crosses the eddyline of the Reversing Falls of Cobscook Bay Tidal Race
From the Course Description:
"Long Boats in Current 1 & 2 – Prepare yourself to paddle in British Columbia's "Skooks", Wales' "Penhryn Mawr" or the Bay of Fundy's "Reversing Falls'"! Long Boats in Current focuses on the fun that sea kayaks can have in current! LBC1 will introduce sea paddlers to turning on eddlylines, ferry crossings and attaining from eddy to eddy. LBC2 will focus on play in current as we surf standing waves and holes, and move to areas of more significant flow. This course takes place on the Menominee River."
As organizers of a Great Lakes rough water event, we needed a back-up plan. What if the sea (lake) goes flat for a day, or even two? If it happens on the ocean (which it does..although you're not likely to ever hear that from any of our east or west coast paddling brethren) it can happen on Lake Superior, even in October. An hour and a half south of the Marquette is the Menominee River. This class II-III whitewater river is suitable (safe) for sea kayaks to play on and learn skills for paddling in significant currents.  It also give us rough water to play and learn in if the sea were to go flat.
More than a back-up plan for a lack of conditions, learning and improving your boat handling skills in current is one of the major factors in becoming an advanced and proficient sea paddler. Special skills are needed for paddling in these conditions, evident by the fact that all major paddlesport bodies include these skills in the upper level certifications. BCU 4* & 5*, ACA L4 and L5 and Paddle Canada 3 & 4 certifications require candidates to show proficiency in handling their boats in tidal current.  This leaves us Great Lakes Paddlers (as well as ocean paddlers in areas like southern California, many areas in the southeastern US and the Gulf of Mexico) in a bit of a conundrum. Without races, rips and overfalls at our "beckon call", how do we learn, practice and master these skills without considerable costs in travel? Even if we are well-travelled paddlers, what about a little practice time between jaunts to tidal areas?  Some whitewater experience helps, but it's not the same and you may or may not want to invest time/energy into another sport. The best answer that we've come up with is to play in sea kayaks in Class II-III whitewater.
Whitewater currents are created by gradient, the loss of elevation along the river. The steeper the gradient, the more powerful and technical the whitewater. Ocean currents are created by the tide. The larger the tidal range, the faster, more powerful and technical the currents and features. Beyond differing causality there are major differences in the currents themselves. Tidal currents constantly change as the current goes from slack to max and back to slack again (and then turns and go the opposite direction as ebb changes to flood). Whitewater currents stay relatively constant with the only changes due to rising or falling water levels.  Tidal current features are significantly effected or amplified by wind and ocean swell, whereas these environmental factors do not really effect whitewater. Though these are significant differences, there are many similarities when you're paddling sea kayaks in both environments. Eddylines, standing waves and pour-overs are found in both tidal and gradient-inspire currents. How you handle your boat in these features is not much different as well. Boat speed and position, angle of approach and edging are basically the same. Eddy turns, peel-outs, attainments and ferry glide maneuvers are basically the same. The ability to surf a standing wave on a whitewater river transfers directly to surfing a standing wave at an overfall.
In 2010, Geneva Kayak offered a expedition on the coast of Downeast Maine and New Brunswick. During the expedition, we spent a day at the Reversing Falls of Cobscook Bay tidal races. Three of the six expedition members had taken our long boats in current trainings on the Menominee River while the remaining three had not.  It was amazing to see proficiency level differences between the two groups. Those with the Menominee River experience were able to transfer those skills to the new environment instantaneously…having a lot of fun playing in the currents and moving their boats around with ease. Though the other three were talented paddlers, this new environment caused many tightly gripped paddles, rescues and some shaky boats!
Two courses will be offered on the Menominee River at the Gales Storm Gathering. Long Boats in Current 1 will focus on developing the basics of handling our boats in current while Long Boats in Current 2 will work on refinement of these skills and play! It is recommended to bring a poly boat on these courses.