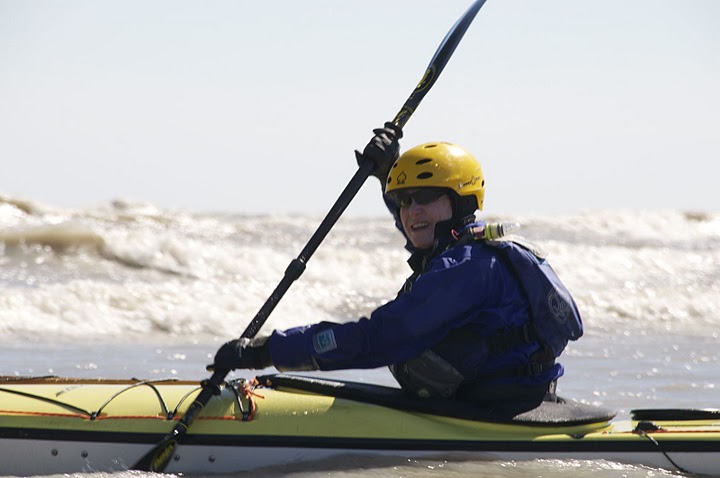 We are pleased to announce Reverend Bonnie Perry as one of our 2013 guest coaches for the Gales Storm Gathering. I (KEITH) have been privileged to work with Bonnie for almost 12 years through the West Michigan Coastal Kayaking Association Memorial Day Weekend Symposium. Bonnie brings a wealth of experience not only of the Great Lakes where she has done many expeditions, but also experience from her many trips to the coasts of England, Cornwall, Scotland, and Wales during her pursuit of the BCU 5 Star Sea Leader award. Bonnie is one of the few women in the world to earn this prestigious award, and even fewer in the USA.
There is nothing  Bonnie loves more than coaching and guiding sea kayaking in the wilderness. In addition to being a 5 * sea leader, she is a Level 3 Sea Coach, a 3 Star Assessor, a 3 star canoe paddler and a UKCC Level 1 Coach. In the American Canoe Association (ACA) Bonnie is a Level 4 Instructor Trainer and in Paddle Canada she is currently a Level 2 Instructor.  Bonnie is comfortable paddling and teaching with both the Euro and Traditional Blades. In addition to teaching in the US and Canada Bonnie has taught with Jeff Allen at Sea Kayaking Cornwall, England and interned with Gordon Brown at Skyak Adventures in Scotland.  Bonnie is a Wilderness First Responder and when she isn't in a boat playing, paddling or coaching she is the Senior Pastor/Rector at All Saints' Episcopal Church in Chicago. www.allsaintschicago.org.
We look forward to seeing Bonnie in Oct.