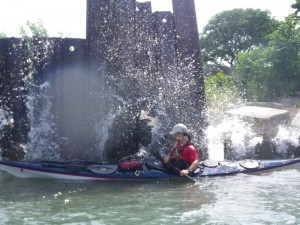 What we love to teach – Fun and Rough Water – Alec Bloyd-Peshkin
"You must be crazy!" That's the response I sometimes get when I have been out
paddling on a particularly rough day.
That's not how it strikes me. I have worked to hone my boat control and rescue
skills, leadership , and knowledge of the environment and weather; for me, going
out on a rough day is fun, and I like to make it fun for my students as well.
Having fun when you are paddling allows you to relax and perform better. When I
coach students in rough conditions, I start by working on the skills they need to be
safe and in control. But I really enjoy setting up activities that promote the kind of
unconscious paddling they have already achieved in less dynamic conditions. This
can be as simple as sitting relaxed in your boat to see how little active effort it takes
to stay upright as waves roll by (you may be surprised by how much staying loose
in your hips reduces your need for support strokes) or seeing how much of an edge
you can paddle with in bouncy conditions. These aren't new skills for most folks,
but often they haven't tried them out in advanced conditions.
When you realize that a large part of paddling in rough conditions is trusting the
skills you have, then you have taken a large step towards being a competent paddler
in rough water. And you will have more fun.