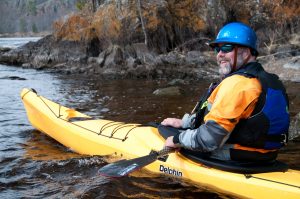 We are pleased to announce this year's guest speaker: Greg Anderson, professor of physics and dedicated paddler, who has generously agreed to provide two talks for us.
The first will be on Friday evening, after dinner, on "Waves for Paddlers." If you have ever wondered why wavefronts end up parallel to the beach, why shoals create larger waves, and how some big waves seemingly come out of nowhere, you can find answers to all that and more.
On Saturday evening, Greg will present photos and stories from his journey last year along the Inside Passage. And at various points during the weekend, he will offer on-land navigation courses.
We're thrilled to have Greg at the Gales this year and look forward to all his presentations!