Because of our venue and the time of year, Gales coaches have to be certified at the highest level: ACA Advanced Open Water, or Level 5. And because ours is a rough-water symposium, we keep our coach-to-participant ratio especially low: 1 to 3. Every year, we invite enough coaches to meet the needs of our symposium size, which we cap at 35. And we strive to bring in at least one coach whom midwest paddlers might not have had the pleasure of working with before.
This year, our guest coach is Jennifer Yearley: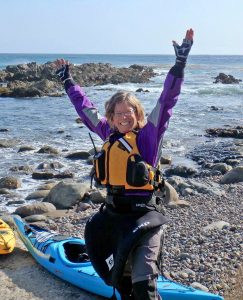 Jennifer specializes in individualized coaching and mentoring to help students reach their personal goals, with a particular focus on empowerment, inspiration, and long-term development. She travels extensively, teaching and training on both the east and west coasts of North America. Jennifer sees her own personal road as being one of ongoing continuous development, both as a paddler and as a teacher, a philosophy that frames all aspects of her work with her students. The learning never stops! Jennifer teaches and guides locally in the greater San Francisco Bay area, where she lives, as well as at workshops and symposia from Nova Scotia to Baja. She is an ACA Level 5 Advanced Open Water Coastal Kayak Instructor, a British Canoeing Advanced Sea Kayak Leader (BCU 5 Star), and an ACA Level 3 Coastal Kayak Instructor Trainer.
The other coaches, in alphabetical order, are:
Alec Bloyd-Peshkin
Sharon Bloyd-Peshkin
Sam Crowley
Scott Fairty
Rebecca Merz
Trey Rouss
Neal Schroeter
Keith Wikle